Please be aware that the interior of the Castle Keep is currently closed to the public whilst it undergoes masonry repairs. We apologise for any inconvenience.
This prominent vantage point and strategic site was quickly recognised by the Normans, who built a huge timber fortress here by 1100 AD.  Originally built by Robert de Toeni, (later known as Robert of Stafford), in the Norman period, Stafford Castle has dominated the local skyline for over 900 years.
In the years shortly after the Norman invasion of 1066, William the Conqueror is believed to have ordered defences to be built against a still hostile and rebellious native community. The fortunes of the castle and its owners, the Stafford family, fluctuated greatly.
The site itself extends to over 26 acres and consists of a Keep, inner bailey, outer bailey, woodland, herb garden, visitor centre and car park. The Keep is open to the public during Visitor Centre opening hours.
The Visitor Centre has an audio visual display which tells the history of the castle; hands on items including arms, armour and costumes; a timeline to put the history of the castle into a national context; a display area with a changing programme of exhibitions and exhibits; and the opportunity to try your hand at coin minting and brass rubbing.
The Visitor Centre shop offers a wide range of gifts, souvenirs traditional toys and local crafts and we stock a large number of local history books. Also on sale are ice creams, soft drinks, hot drinks and hot sausage rolls and pasties.
Outside the centre visit the fragrant herb garden and discover what herbs were used for in the medieval period.
A full and exciting events programme includes re-enactments and wildlife shows. There is a school and group tour programme and occasional themed tours, talks and workshops.
Location
Stafford Castle is located on the Newport Road, Stafford, ST16 1DJ
Opening hours and contact details
Stafford Castle Visitor Centre and Keep Summer Hours (April through October): 11.00am to 4.00pm, Wednesday through Sunday
Stafford Castle Visitor Centre and Keep Winter Hours (November through March): 11.00am to 4.00pm, Saturday and Sunday
Call us: 01785 257698
Email us: info@historicstafford.co.uk
The castle site hosts a number of large-scale events throughout the year. Wildlife fairs and re-enactment displays also form part of the regular events programme at the Castle. There are also themed workshops for children and specialist workshops for adults throughout the year.
We are extremely proud that Stafford Castle and its team of knowledgeable and enthusiastic guides have been awarded the Sandford award for educational excellence. We offer tours that cater to KS 1/2/3 designed to fit the requirements of the National Curriculum. Our tours mix both indoor and outdoor learning to keep your pupils engaged through out the day. With additional activities to enhance their experience. Each group has its own designated Heritage guide for the entire day who will do their utmost to ensure you have a fantastic and memorable visit.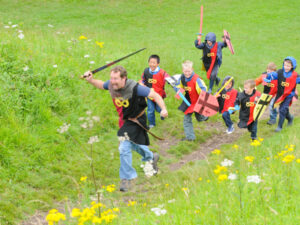 Are you looking for a more unusual birthday party? How about joining us and storming the Castle, before searching for treasure? With a knighting ceremony for the birthday child before marching back to our visitor centre for your birthday celebration. Lasting 1.5 hours these are limited to just one birthday party per day so please book well in advance.
Please email us or give us a call to book.
Call us: 01785 257698
Email us: info@historicstafford.co.uk
We offer a bespoke service to anyone looking to bring a group of people to the castle. Please send an email addressed to our Tour Coordinator via the email below with your ideas and we can do the rest ensuring you have a memorable visit.
Email: info@historicstafford.co.uk
Accessibility
Physical Access:
The Visitor Centre is fully wheelchair accessible. The grounds and woodland are also accessible but please be aware that there is a steep hill leading up to the Castle Keep. There is a woodland path that forms a loop around the base of the site which can be accessed without steps. The Castle Keep is only accessible via a short staircase and the entrances into the ruins are narrow.
Visual Access:
Staff in the Visitor Centre are happy to describe and detail all available displays – example weapons and armour can also be handled.
Guides are always willing to give any assistance possible. Please phone 01785 257698 for more information, or email us on info@historicstafford.co.uk